Warren County Historical Society
Red Rock Riders Drill Team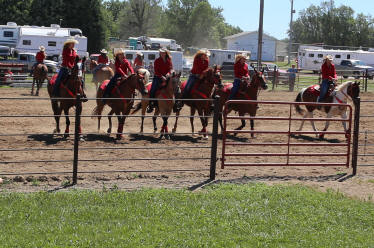 The Red Rock Riders is a group of Central Iowa Girls who do drill team riding. This group will be performing at our Log Cabin Festival Saturday September 27. They will be performing in the horse arena imediatly after the Log Cabin Festival Parade. The girls perform for special events and raise money to travel to Competitions. Please see their facebook page.
Warren County Philanthropic Partnership Check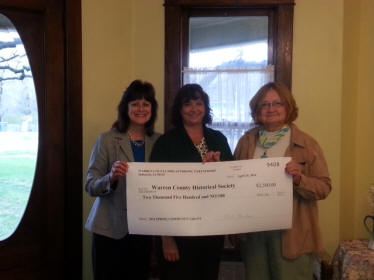 This grant covers half of the $5,000 required for the Mural. We are asking for donations to cover the other half. Please consider a donation for this cause.
Proposed Museum Mural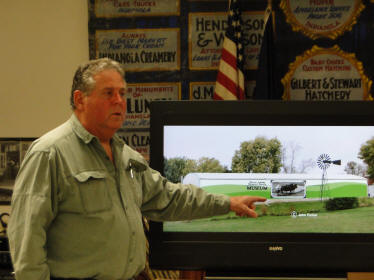 John Parker showing his proposal for a Mural on the east side of our Museum Building. This is a computer generated image of the way it would look on the Museum. He is also proposing to move the Wind Mill presently on the South side to accent the Mural. This is not the final design, just a starting point. The green back ground is not part of the Mural.
The city of Indianola has purchased the Chaplin property east of the Warren County Historical Society's property. When they cleared the land it exposed the East Side of the Museum. This Mural would dress up our building and would draw attention to our Museum.
We have been awarded a $2,500 grant to help pay for the Mural. We need to raise an additional $2,500. The back ground paint and moving the wind mill is not included in the $5,000 price of the mural. We may get the City to pay for moving the wind mill if they go ahead with joining J & K streets.
We are asking the public and local businesses to help and donate for this project. Please help if you can, even small contributions add up. We are a 501(C)3 organization so your contribution should be tax deductible. Be sure to specify that your contribution is for the Mural. We now accept PayPal as well as charge cards (thru PayPal) just click on the donate button on this page. You man also send your check to WCHS PO box 256 Indianola, IA 50125. Thank You for your support.

Please Help us Preserve the History of Warren County

Museum Information
Hours
Thursdays 9:00am-4:00pm
Saturdays 9:00am-12:00pm
Other times by appointment


Linda Beatty has published a special edition news letter for the log Cabin Festival please see our Newsletters Page to view or download
The Log Cabin Days Festival Parade Starts at 10:00 am Saturday September 27, line up at 9:00 am Please see our Festival Page for more information and a map.
1st WCHS LOG CABIN FESTIVAL "SWAN" CHILI COOK-OFF:Saturday, September 27, 2014 Judging Begins at 4:00 pm Warren County Fair Ground's Campground Shelter (inclement weather Museum dining-room) $10 Entry Fee. Download our Cook-Off Entry Form. See our Festival page for more details.
Our grant from the Warren County Philanthropic Partnership for the Mural Project is approved. The grant is for $2,500. We are required to match the grant with an additional $2,500.
WCHS MISSION: To collect, preserve, and create interest in the cultural, political, and economic heritage of Warren County, Iowa
Please Help us Preserve the history of Warren County. We now accept PayPal and Credit Cards
Please see our About Page for more information about us.
This year's Log Cabin Festival is featuring Agriculture in Warren County.
The Festival Will be Saturday September 27 & Sunday September 28. See our Festival Page for more information.