Warren County Historical Society
2016 Log Cabin Days Festival Theme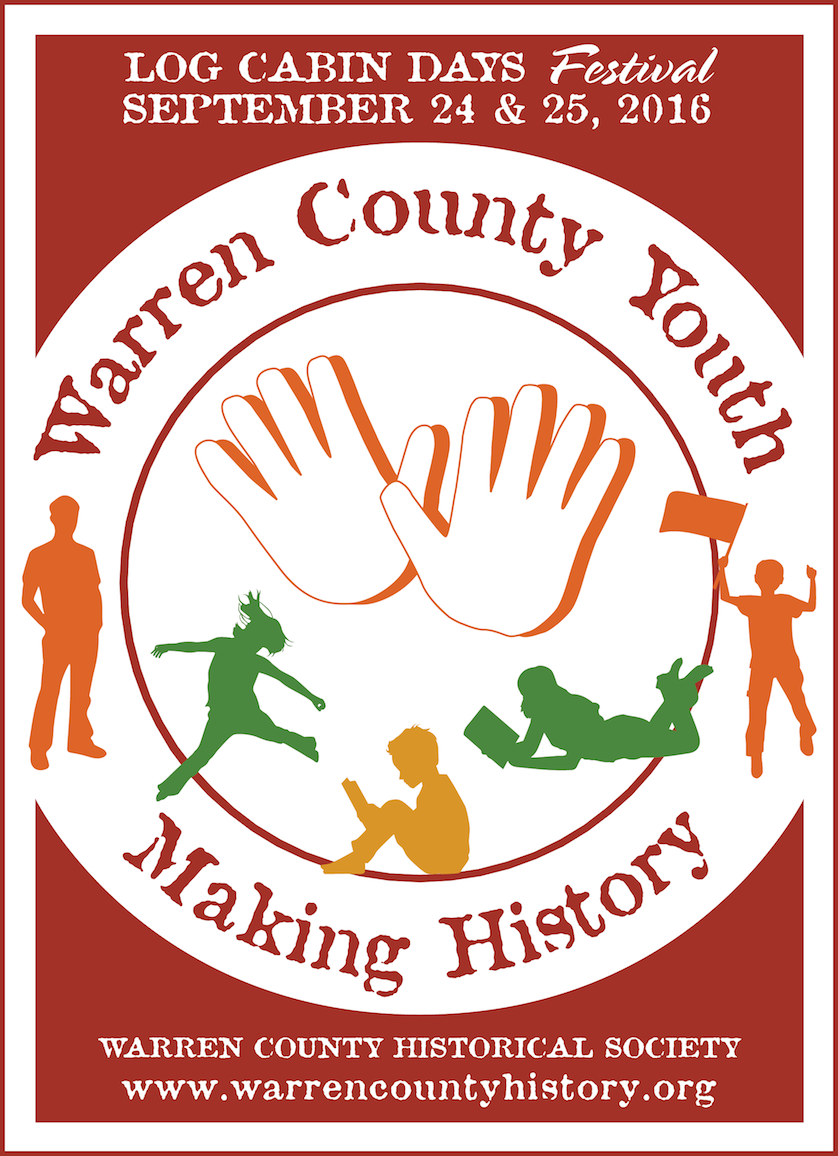 "Warren County Youth Making History" is the theme of this year's Log Cabin Days Festival and, also, the beginning of a youth archives in the Warren County Historical Society. We will recognize past, present, and future service of youth. The historical society will use this event as the kick-off for a formal archive of community supportive activity by our young people. In a search of our archives at the WCHS we found very little about our Warren County youth and their community activities. We assume that was because, in the past, many young people spent long hours working on the farm or in other family business and, also, their community activities were not recognized in the newspapers. One of the few pictures of young people doing a service project was of the students of Scotch Ridge School who collected milk weed seed to be used in flotation vests for servicemen during the Second World War. Groups such as the Boy Scouts and Girl Scouts came into existence in the early 20th Century and were followed by other organizations such as 4-H and Future Farmers of America. Within the churches there have also been youth groups. Other youth groups have formed around specific activities such as saddle clubs, dance clubs or sports groups. Lately we have seen the newspapers giving well-earned recognition to groups that have collected food and other products for helping organizations, who have placed historical plaques on buildings on the Indianola Square and who have done other community supportive projects. Our plan is to make a permanent record, or archive, of these activities. To start off the archive we have created a contest that individuals or groups can enter to showcase their organization. Ages 5 t0 19 can participate. Click on the image above for more information and a link to enter the contest.
Award Winning Author Jerry Beatty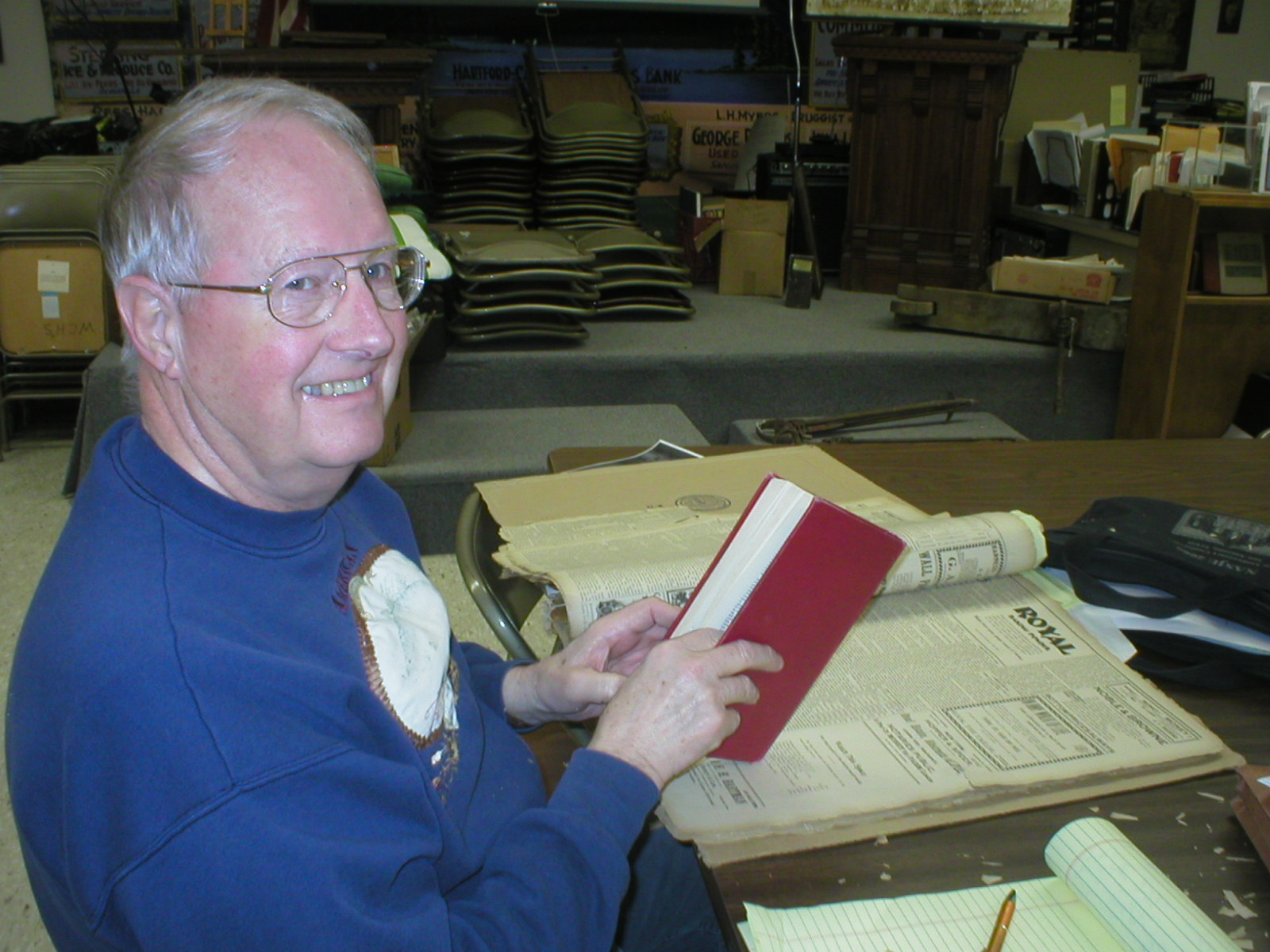 Jerry doing research
Jerry Beatty has been writing and publishing books for the Warren County Historical Society (WCHS) since 2011. He has written books on Summerset (2011), Warren County Rural Schools (2013), and Agriculture in Warren County (2014). He has completed a book for our 2015 Festival on Warren County and the Civil War. These books are for sale as a fund raiser for WCHS. For more information please see our new Publications Page.
Publications Page.
Warren County Philanthropic Partnership Check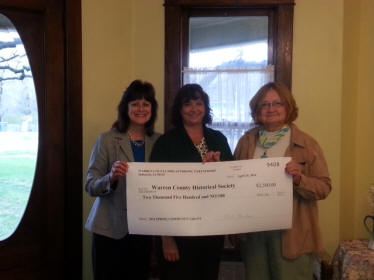 This grant covers half of the $5,000 required for the Mural. We are asking for donations to cover the other half. Please consider a donation for this cause.
Proposed Museum Mural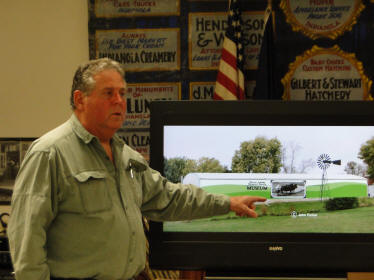 John Parker showing his proposal for a Mural on the east side of our Museum Building. This is a computer generated image of the way it would look on the Museum. He is also proposing to move the Wind Mill presently on the South side to accent the Mural. This is not the final design, just a starting point. The green back ground is not part of the Mural.
The city of Indianola has purchased the Chaplin property east of the Warren County Historical Society's property. When they cleared the land it exposed the East Side of the Museum. This Mural would dress up our building and would draw attention to our Museum.
We have been awarded a $2,500 grant to help pay for the Mural. We need to raise an additional $2,500. The back ground paint and moving the wind mill is not included in the $5,000 price of the mural. We may get the City to pay for moving the wind mill if they go ahead with joining J & K streets.
We are asking the public and local businesses to help and donate for this project. Please help if you can, even small contributions add up. We are a 501(C)3 organization so your contribution should be tax deductible. Be sure to specify that your contribution is for the Mural. We now accept PayPal as well as charge cards (thru PayPal) just click on the donate button on this page. You may also send your check to WCHS PO box 256 Indianola, IA 50125. Thank You for your support.

Please Help us Preserve the History of Warren County
NOTE: WCHS has no paid staff; all workers are volunteers. 100% of your donation goes to the maintenance and care of our museum and library collections.


Museum Information
Hours
Thursdays 9:00am-4:00pm
Saturdays 9:00am-12:00pm
Other times by appointment We are located at 1400 W 2nd Ave Indianola, IA. We are next to the Fairgrounds Camping area. Our mailing addres is P.O. Box 256 Indianola, Ia 50125. Phone # (515)961-8085. Pleas see our About Page for a map.

Newspaper Scans
We now have some of the older county newspapers scanned in. Thanks to a grant from the Warren County Philanthropic Partnership. The money for the grant comes from Prairie Meadows and is distributed by the Warren County Philanthropic Partner-ship. We would also like to thank the following sponsors who provided matching funding for the Grant: Casey' s General Store, Commu-nity Bank, Hy Vee, Norwalk Ready Mix, Overton Funeral Home, Peoples Bank, Phillips Floors, Annette Rath, St. Charles Bank, Warren County Genealogical Society, and Weinman Insurance. Please thank these donors and let them know how much we ap-preciate their gifts.
Click Here to Search the Newspapers. You may also access them from our Research Page.
The Warren County Historical Society has some books for sale, the latest is by Jerry Beatty: Warren County and the Civil War. Each book is available for review and purchase at the WCHS, 1400 W. 2nd Ave., Indianola (east side of the Warren County Fairgrounds, 9 a.m. - 4 p.m. Thursday and 9-noon Saturday. See the Publications Page for details. For more information call 961-8085 or 961-3088
WCHS MISSION: To collect, preserve, and create interest in the cultural, political, and economic heritage of Warren County, Iowa
Please Help us Preserve the history of Warren County. We now accept PayPal and Credit Cards
Please see our About Page for more information about us.