Warren County Historical Society
Award Winning Author Jerry Beatty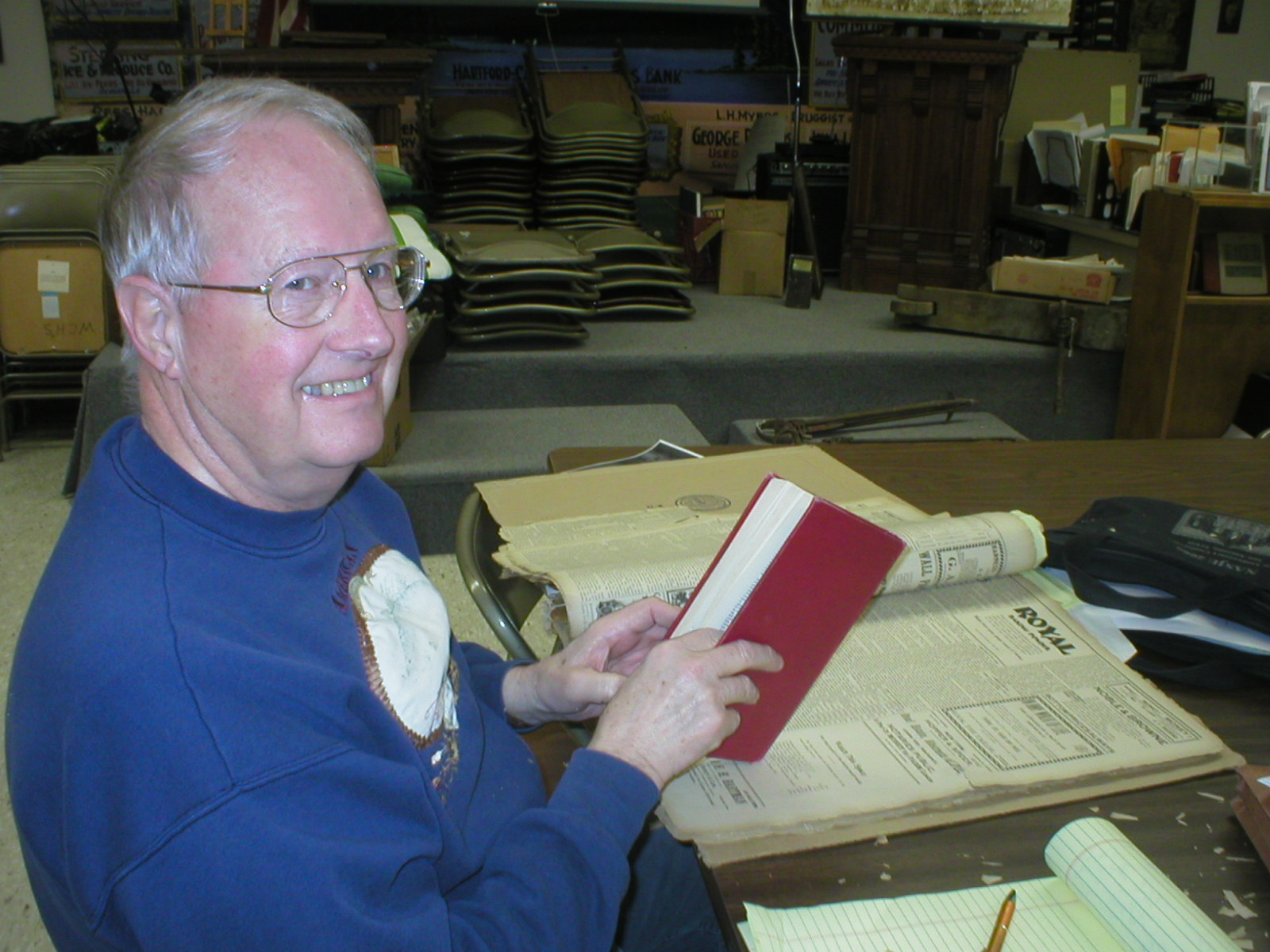 Jerry doing research
Jerry Beatty has been writing and publishing books for the Warren County Historical Society (WCHS) since 2011. He has written books on Summerset (2011), Warren County Rural Schools (2013), and Agriculture in Warren County (2014). He is currently working on a book for our 2015 Festival on Warren County and the Civil War. These books are for sale as a fund raiser for WCHS. For more information please see our new Publications Page.
Publications Page.
If you have any Civil War related artifacts that you would like to share, please bring them to the museum so we can display them this year. Jerry is especially interested in Civil War stories, letters and photos that can be copied and included in the Civil War book.
Warren County Philanthropic Partnership Check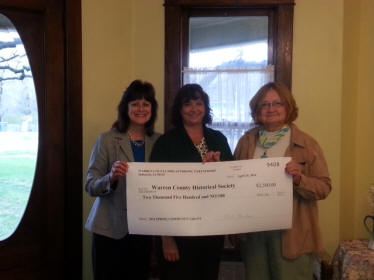 This grant covers half of the $5,000 required for the Mural. We are asking for donations to cover the other half. Please consider a donation for this cause.
Proposed Museum Mural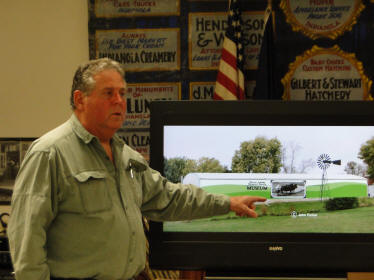 John Parker showing his proposal for a Mural on the east side of our Museum Building. This is a computer generated image of the way it would look on the Museum. He is also proposing to move the Wind Mill presently on the South side to accent the Mural. This is not the final design, just a starting point. The green back ground is not part of the Mural.
The city of Indianola has purchased the Chaplin property east of the Warren County Historical Society's property. When they cleared the land it exposed the East Side of the Museum. This Mural would dress up our building and would draw attention to our Museum.
We have been awarded a $2,500 grant to help pay for the Mural. We need to raise an additional $2,500. The back ground paint and moving the wind mill is not included in the $5,000 price of the mural. We may get the City to pay for moving the wind mill if they go ahead with joining J & K streets.
We are asking the public and local businesses to help and donate for this project. Please help if you can, even small contributions add up. We are a 501(C)3 organization so your contribution should be tax deductible. Be sure to specify that your contribution is for the Mural. We now accept PayPal as well as charge cards (thru PayPal) just click on the donate button on this page. You may also send your check to WCHS PO box 256 Indianola, IA 50125. Thank You for your support.

Please Help us Preserve the History of Warren County
NOTE: WCHS has no paid staff; all workers are volunteers. 100% of your donation goes to the maintenance and care of our museum and library collections.


Museum Information
Hours
Thursdays 9:00am-4:00pm
Saturdays 9:00am-12:00pm
Other times by appointment We are located at 1400 W 2nd Ave Indianola, IA. We are next to the Fairgrounds Camping area. Our mailing addres is P.O. Box 256 Indianola, Ia 50125. Phone # (515)961-8085. Pleas see our About Page for a map.

Summer Farmers Market Starts Saturday June 6th.
Open air market that features farm fresh fruits and vegetables, homemade items, flowers and plants and more. The market is held at the Warren County Fairgrounds West gate on Wednesday and Saturday beginning in early June through October. The Wednesday market runs from early July through September.
We are accepting Craft and Vender Applications for the 2015 Log Cabin Days Festival. You may download the application here.
The theme for 2015 Log Cabin Festival is Warren County and the Civil War. The Festival Will be Saturday September 26 & Sunday September 27.
The Warren County Historical Society has two books: Rural Schools in Warren County, Iowa1847-1959 and Agriculture in Warren County, Iowa - A Brief History (Farms Barns, Seeds & Breeds). Each book is approximately 250 pages and contains over 200 pictures. The school book features 148 country schools and mentions over 4,ooo names. The ag book highlights farm organizations and youth groups, and lists over 100 Warren County farm families and leaders in agriculture. Books are available for review and purchase ($30) at the WCHS, 1400 W. 2nd Ave., Indianola (east side of the Warren County Fairgrounds, 9 a.m. - 4 p.m. Thursday and 9-noon Saturday. See the Publications Page for details. For more information call 961-8085 or 961-3088
WCHS MISSION: To collect, preserve, and create interest in the cultural, political, and economic heritage of Warren County, Iowa
Please Help us Preserve the history of Warren County. We now accept PayPal and Credit Cards
Please see our About Page for more information about us.