Log Cabin Festival
The 2014 Log Cabin Festival honors Agriculture in Warren County
Comunity Bank Judged Merchants Choice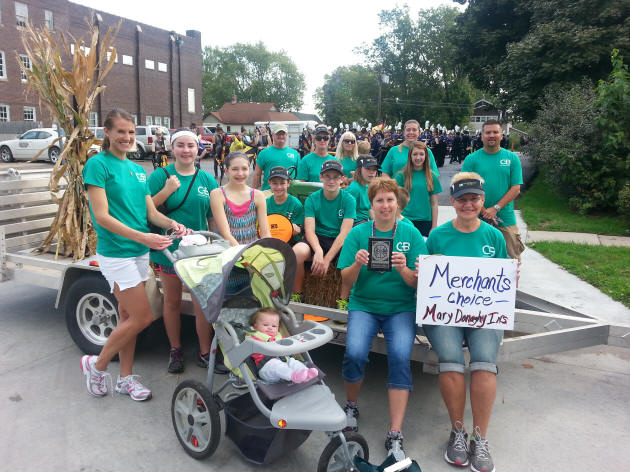 FFA Judged Best of Theme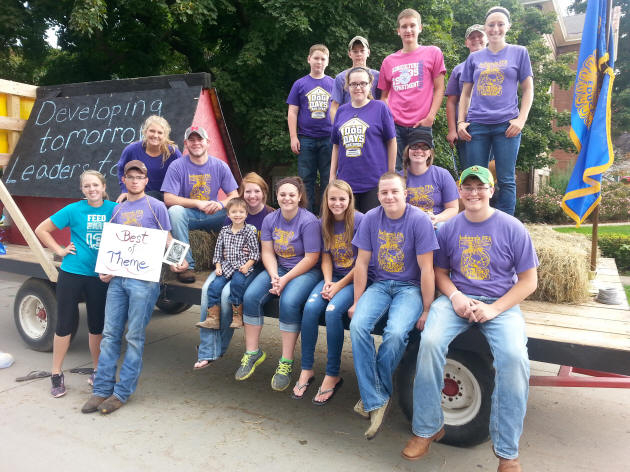 The Greg Vliegler family float Judged Historical Best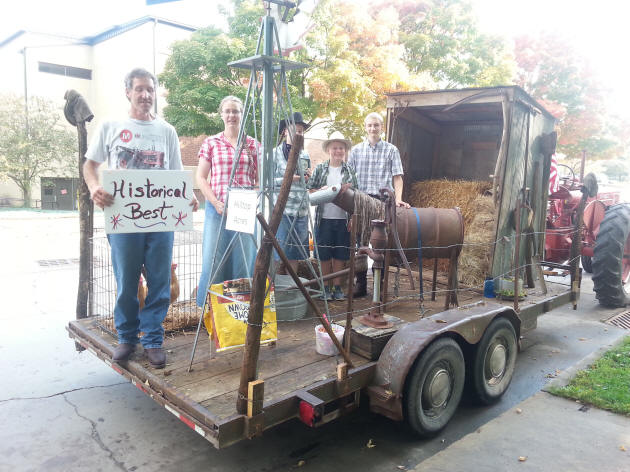 2014 LCF Logo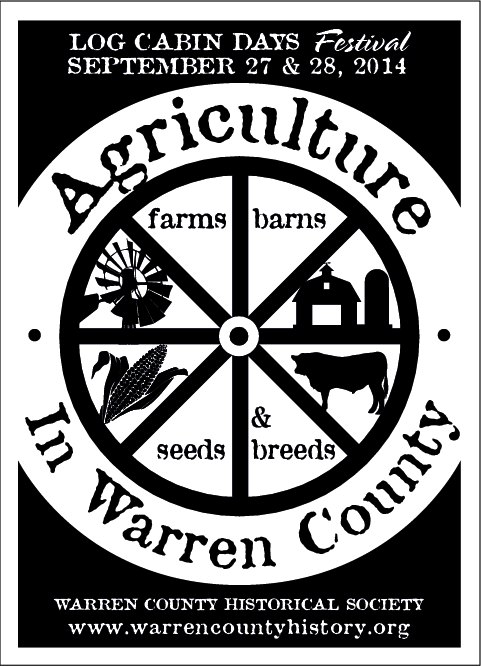 Jerry Beatty Researching for his book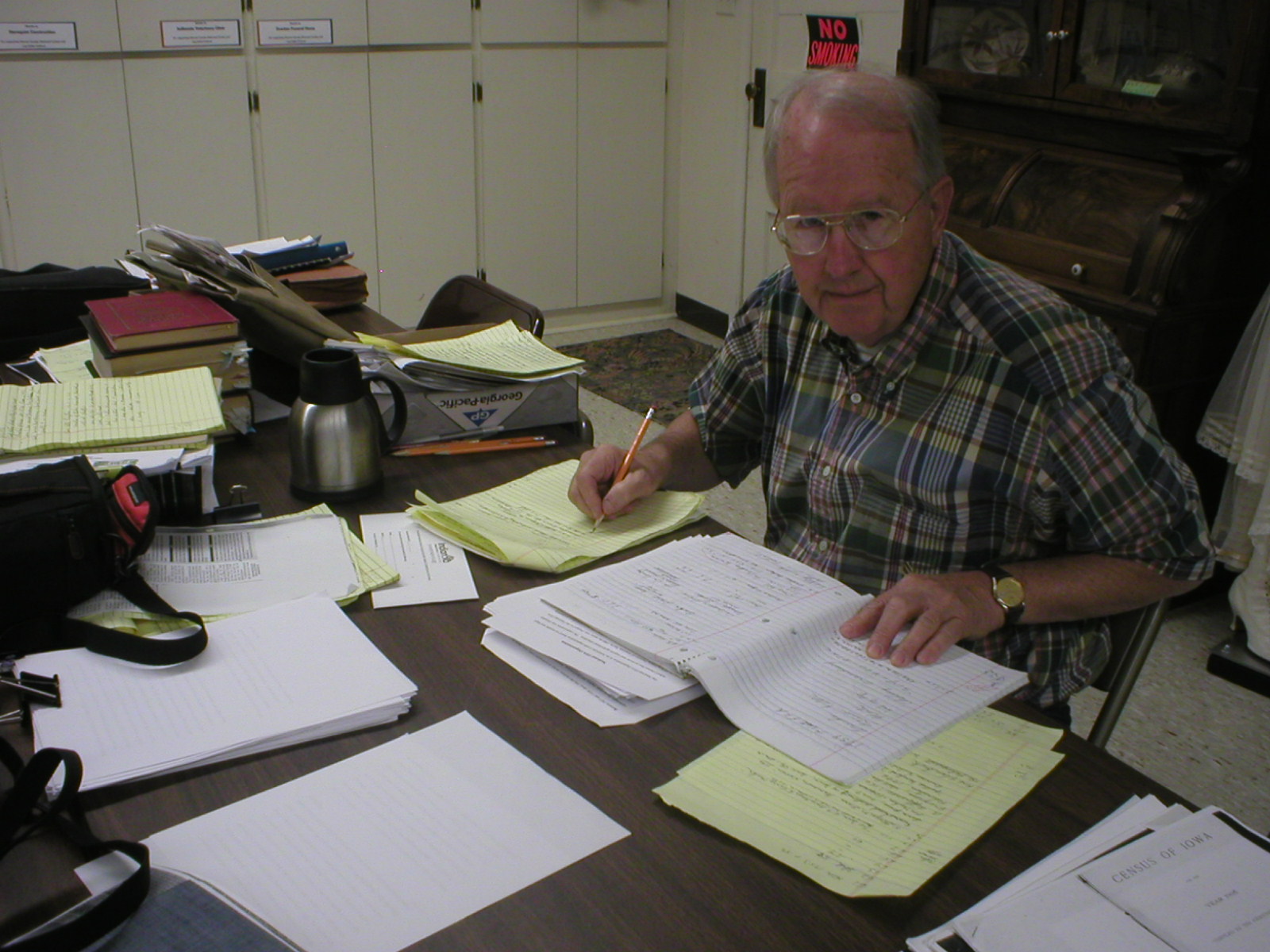 Jerry Beatty Researching for his book
Mr. Jerry Beatty is compiling a booklet about the Agriculture in Warren County that will include many images and information. It will be available for sale during the Festival.
1st WCHS LOG CABIN FESTIVAL "SWAN" CHILI COOK-OFF:Saturday, September 27, 2014 Judging Begins at 4:00 pm Warren County Fair Ground's Campground Shelter (inclement weather Museum dining-room) $10 Entry Fee. Download our Cook-Off Entry Form. Competition types: 1 Vegetarian 2 Meat 3 Specialty Judged on color, aroma, taste. You provide 1 gallon or more of hot chili at 3:30 pm You may bring prepared chili from home or make at shelter using your own equipment Provide recipe to display If secret, (just list basic ingredients) Denote on scale 1-5 hotness 1 mild – 5 hottest Questions: E-mail lindabeatty13@gmail.com
We are accepting Craft and Vender Applications for the Log Cabin Days Festival. You may download the application here.
The 2014 Log Cabin Festival Honoring Agriculture in Warren County will be held Saturday and Sunday, September 27th and 28th.
"Agriculture in Warren County - Farms, Barns, Seeds, and Breeds" is the theme this year. There are over 130 Century and Heritage Farms in our county with more being added each year. These farm families, other notable farms, and leaders in the farming community will be honored at this year's festival. Here is a list of Centuury Farms that have been awarded Century and Heritage status as of 2013. Warren County is the birthplace of the Polled Hereford breed. The breeder, Warren Gammon lived in Des Moines, but the breeding took place near St. Marys. Here is an excerpt from HerefordAmerica.com: "In the year 1900, at age 55, Warren Gammon, set his course to develop a purebred Polled Hereford. He began by writing to all 2500 members of the American Hereford Association, inquiring if they might have a hornless, registered Hereford. Out of 1500 replies, he located 14 purebred Herefords, born without horns; 4 bulls and 10 cows. A jubilant Gammon bought all but one cow; two cows proved barren, reducing the number of foundation cows to 7. They selected as their herd sire "Giant," the first Polled Hereford herd in the world, the embryo of a dream, had conceived and taken root among the green hills of a rented farm near St. Mary's, Iowa. Average price per head $140. In later years, Warren would brag in jest that he once owned the world's record priced Polled Hereford bull. Shipped by rail to his new home, Giant was mated to his first Polled Hereford cow in 1901. Three polled calves were born that first year, six polled calves the second; the beginning of a stream of calves that would ultimately span the earth." Jerry Beatty has spent months compiling information about Warren County's rich agricultural heritage. Learn more! Look for his book at the museum during Log Cabin Days Festival 2014!


Check out our Log Cabin Days Festival on Facebook
View or Down load our Log Cabin Days Festival Flyer